Patricia Johnson
---
SCI Employee Star of the Month for January 2020
---
Patricia Johnson is SCI's Employee Star of the Month for January 2020. She works as a Materials Expediter and has been with SCI for more than 36 years.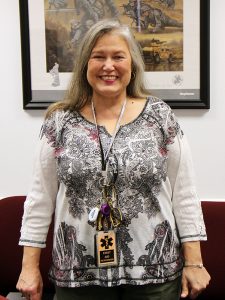 Job Title
Materials Expediter
How long have you been with SCI?
July 5th will be 37 years.
What do you like about working here
I told myself in school that I would never work in a factory… well that was 37 years ago.
My original plans were to have my own small business. My time here started as a job, but ended up being a career. Worked, married, and raised a family. I have had various responsibilities during my journey, and each one has given me the opportunity to learn and grow.
You've served in a number of different positions over the years. What were they, and which was your favorite?
Advanced hand soldering/repair; Hand Load Material Handler/Line Lead; Associate Manufacturing Engineer; Documentation Control Administrator (implementation of ISO9000); Manufacturing Maintenance Clerk; Receiving Clerk; Consumables Administrator/Hazmat Responder
My favorite job was as an Associate Engineer because it allowed me to use my immense creativity and design / problem solving skills.
What can you tell us about the group you work with?
They are my extended Family. Each one is uniquely different, but work so well as a complete team. Each love life, family and to have fun (especially love dressing up for Halloween).
At SCI, we often say that we serve those who serve. What personal meaning does that have for you?
We are privileged to have the responsibility of building products that improve the chances of survival for those who serve and protect our freedoms. We are blessed to have employees who served in the US Military and have now transitioned to the SCI Team. Bringing with them vital field experience. Allowing them to improve or create cutting edge products that will improve the survival rates of our troops.
I grew up as a "Coastie" in a military family and married a Navy "SeaBee" — it brings an immense sense of pride. A true leader must have a servant's heart. A leader must be willing to do what they are expecting others to do….leading by example.
What are your hobbies outside of work?
DYI Projects (Repurposing discarded items into beautiful new things), gardening, fishing/outdoors, bargain hunting.
I love finding people to "pay it forward" to…  My favorite is to find young couples or single parents with small children. I look for those who are frazzled and seem to have made it to the end of their rope that day, and I walk up to them and encourage them by letting them know they are doing awesome job, to hang in there, then I bless them with the gift of a lunch date together. It is so rewarding to see the joy return to their faces.
I also like to do occasional crafting classes with seniors during the winter months.
What is your favorite activity to do with your family?
Fishing
What is your favorite TV show?
Oak Island
How long do you think you could go without using social media? (Be honest!)
Forever
If you could only listen to one song for the rest of your life, what would it be?
I'm Dreaming of a White Christmas
If you could travel anywhere in the world for vacation, where would you go?
Cannot just pick on place. I want to experience every continent and culture.
Let's play "Would You Rather" (please explain your choice!)
Would you rather have to read aloud every word you read or sing everything you say out loud?
Music has a tendency to be remembered by the hearer better than the spoken word. Plus, I would have eye contact vs reading and having to look at the written word I am trying to read.
Would you rather be able to control fire or water as your superpower?
With being able to control water, you would have control over fire. Thus in this case water is more powerful than fire.